Pearl millet
A power-packed grain

For strong bones
It contains high levels of phosphorus3. Phosphorus is essential for bone growth and development in young children.

For pregnant women
Pearl millet contains high amounts of iron and folic acid. Folic acid (folate/vitamin B9) helps to reduce chances of neural tube defects such as spina bifida in the unborn child. Iron is responsible for preventing anemia in the mother.

For sugar and weight control
Pearl millet contains higher amounts of fiber than rice and wheat
1
. Its high fiber content causes it to digest slowly, releasing glucose at a slower rate as compared to other foods, thus maintaining healthy blood sugar levels for a long period of time
2
.
The high fiber content in pearl millet also helps to curb hunger for longer, indirectly contributing to weight loss.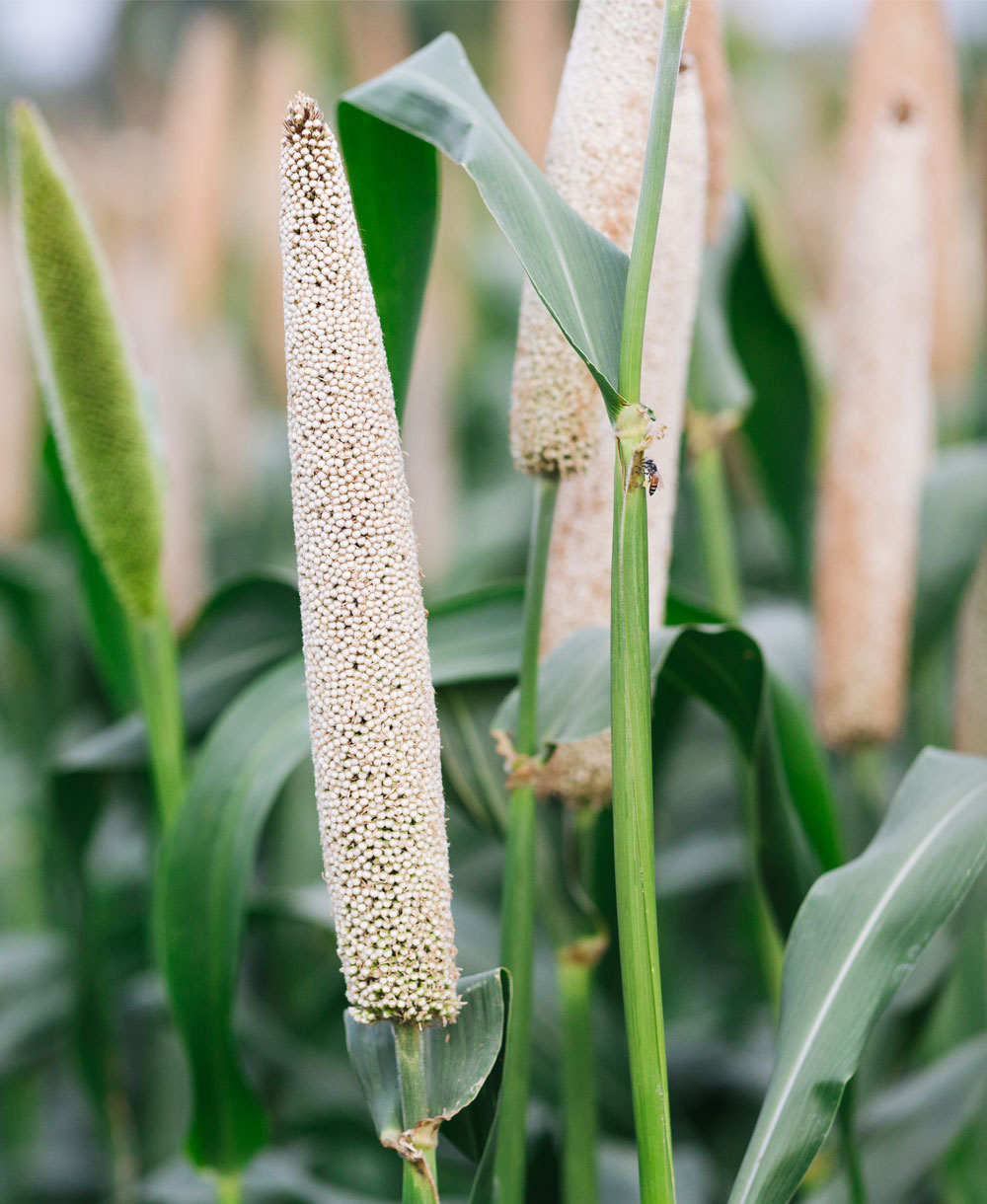 References
Longvah T, Ananthan R, Bhaskarachary K and Venkaiah K. 2017. Indian food composition table, National Institute of Nutrition. 1-578.
Thathola A, Srivastava S, Singh G. 2011. Effect of foxtail millet (Setariaitalica) supplementation of serum glucose, serum lipids and glycosylated haemoglobin in Type 2 diabetics. Diabetologia Croatica 40:23-28.
Kumar A, Metwal M, Kaur S, Gupta AK, Puranik S, Singh S, Singh M, Gupta S, Babu BK, Sood S and Yadav R. 2016. Nutraceutical value of finger millet (Eleusine coracana (L.) Gaertn.), and their improvement using omics approaches. Frontiers in plant science. 7:934. doi: 10.3389/fpls.2016.00934
We compared Pearl Millet to Top 5 foods highest in Iron
Pearl Millet

Liver

Wheat

Beef

DarK Green Leafy Vegetables
What is your daily recommended iron intake?
13.7–15.1 mg in children 2–11 yrs
16.3 mg in children and teens aged 12–19 yrs
19.3–20.5 mg in men
17.0–18.9 mg in women
14.7 mg in pregnant women