At a Glance
Food production is the largest driver of global environmental change.
Our changing dietary habits are causing irreversible damage to the planet.
To mitigate climate change, the Lancet Commission recommends more plant-based foods and less animal source foods, unsaturated fats and sugar.
Food. It's a sensitive topic for many Indians. Shaped by religious and cultural beliefs, regional influences and family habits, everyone has a different opinion on what constitutes a healthy, wholesome diet. But in the backdrop of climate change, scientists now recommend we re-think our food preference in terms of environmental sustainability.
A recent report by the EAT-Lancet Commission on Food, Planet, Health, drafted by over 30 leading scientists worldwide, asserts that unhealthy and unsustainably produced food "poses a global risk to people and the planet". Even though global food production has kept pace with population growth, over 820 million people still lack sufficient calories. In addition, many more consume low-quality diets that contribute to bad health, and even premature death.
The problem can get worse as climate change places further strain on our agricultural system. According to the Lancet report, food production exerts the largest anthropogenic pressure on Earth: it occupies about 40% of global land and 70% of freshwater use, and is responsible for up to 30% of global greenhouse-gas emissions. Intense agricultural practices are increasingly contributing to climate change by emitting carbon dioxide, methane and nitrous oxide and other greenhouse gases.
To circumvent this, the Commission proposes a diet "which includes more plant-based foods and fewer animal source foods." The proposed 'planetary health plate' recommends approximately half a plate of locally grown, seasonal vegetables and fruits. The other half comprises of primarily whole grains (rice, wheat, etc.), plant protein sources (like legumes and nuts), unsaturated plant oils (such as olive, soybean, rapeseed, sunflower, and peanut oil), and modest amounts of animal sources of protein. The Commission estimates that adopting such a diet could avoid about 11.1 million deaths per year in 2030 and reduce premature mortality by 19%.View image on Twitter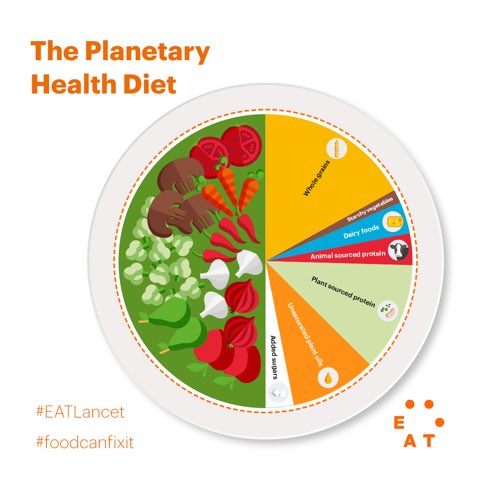 The good news is that the traditional Indian vegetarian diet (thali)—low on red meat, high on plant foods—is not only deemed healthy for us, but also the planet. Explains Dr Abhishek Chaudhry, co-author of the report and Professor at IIT Kanpur, "The world has recognised that the Indian vegetarian diet is healthy for the people and planet. India has one of the lowest food production-related environmental footprints in the world."
The bad news, however, is that rising incomes and urbanisation are negatively impacting our eating habits and carbon footprint. Says Dr Chaudhry, "Unlike China, where rising incomes led to better nutrition, India is still battling high levels of malnutrition. Obesity rates are also on the rise. Sadly, we are consuming more processed and unhealthy foods containing starchy vegetables and sugar, while eating less locally-grown, seasonal fruits and vegetables, whole grains and pulses, which are part of our rich food heritage and have low carbon footprint."
Millet is a good example of a traditional whole grain that has seen its popularity decline in favour of the rice and wheat, which are known to accelerate climate change. Popular varieties of millet include sorghum (jowar), pearl millet (bajra) and foxtail millet (ragi). In India, over the last few decades, rice and wheat production and consumption has superseded that of millet, which is far more nutritious and environment-friendly.
In last fifty years, the area under millet cultivation declined over 60% in terms of land area. The reasons are many: change in consumption pattern, low yield, less demand and conversion of irrigated area for cultivation of rice and wheat. Rice cultivation, which has replaced most of the millet cultivation, contributes to climate change in multiple ways. Methane emitted from flooded paddy fields and the energy needed for pumping water cause significant greenhouse emissions. Between 1990 and 2016, rice cultivation contributed to 16.7% of India's total emissions in the agricultural sector.
However, some food experts are optimistic about the changing attitude of consumers towards creating a sustainable food culture—at least among urban Indians who can afford it. Chef Manisha Bhasin, Senior Executive Chef – ITC Maurya Hotel, New Delhi, who is also one of the founding members of the Young Chefs Association for Sustainable India says, "Health is the biggest luxury investment today. A lot of our customers are willing to try out locally sourced, seasonal foods which are healthy and part of our rich food heritage. For instance, ragi, bajra and other whole grains are very popular on our breakfast menu. The only challenge with some of these ingredients is that a lot of people don't know how to use them since they haven't been used in the Indian kitchen for many years."
There's enough evidence that changing temperatures and reduced rainfall are taking a serious toll on Indian agriculture. While the Lancet Commission recommends that governments become more proactive in promoting nutrition education, we too, can contribute to climate change mitigation by changing our food habits. In case you're wondering where to begin we recommend easy foods like ragi dosa or barley soup this weekend. With recipes easily available online, trust us, they're yummy!
Original post on The Weather Company